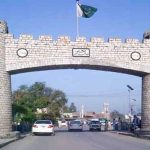 KARACHI: An anti-terrorism court (ATC) here in Karachi on Saturday sent former Senior Superintendent of Police (SSP) Malir, Rao Anwar – accused of killing Naqeebullah Mehsood extra-judicially – to jail on judicial remand until May 2.
Anwar was produced before the ATC after his month-long physical remand expired.
The family of Mehsood and members of jirga were also present in the court.
Anwar is being investigated for his suspected involvement in the extrajudicial killing of Naqeebullah Mehsud in a staged encounter in Karachi.
Mehsud, a 27-year-old hailing from South Waziristan, was gunned down on January 13 in Shah Latif Town by alleged 'encounter' with a police team headed by Rao Anwar, however; preliminary probe suggest that Mehsud was killed in cold blood and had no terror links.
Meanwhile, Rao Anwar while talking to media has said that he would tell everyone if the encounter was staged or real.
Responding to a question, he said that everything will clear after the formation of Joint Investigation Team (JIT) to probe the matter.