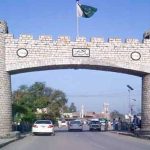 KARACHI: An anti-terrorism court (ATC) on Friday granted bail to former SSP Malir Rao Anwar in a case pertaining to possession of explosives and illegal weapons.
Anwar had filed a bail plea in the case and the ATC had reserved its verdict on July 17.
In its verdict, the court ordered Anwar to submit surety bonds of Rs. 1 million.
Last week, the ATC granted bail to Anwar in Naqeebullah murder case and directed him to submit Rs.1 million in bail bonds.