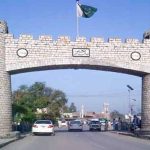 KARACHI: A meeting presided over by Counter-terrorism Department (CTD) Additonal Inspector General (IG) Sanaullah Abbasis has decided to arrest suspended Malir Senior Superintendent of Police (SSP) Rao Anwar on Sunday in Naqeebullah Mehsud probe.
Mehsud was gunned down last week in Karachi by Rao Anwar-led police over alleged terror activities however, preliminary probe revealed that Mehsud was killed in cold blood and had no terror links.
Sindh Additional Inspector General of Police (IGP) sacked Malir SSP following the incident and reportedly, authorities have moved to arrest the alleged perpetrator.
CTD Additonal IG-led meeting agreed to arrest Anwar and the personnel involved and transfer Station House Officers (SHO) of District Malir.
The meeting resolved to lodge a First Information Report (FIR) against the suspended officer and the personnel involved. Reportedly, the meeting decided to have Investigation Wing Superintendent of Police (SP) Abid Qaimkhani lead the probe.
On the other hand, forensic tests of the weapons that Anwar claimed to have seized from Mehsud's possession reveal that the weaponry was never used.
Reportedly, Rao Anwar has denied to appear before the inquiry committee and refuted the news that three police have recorded their statements against him.
In what came as an important development in slain Najeeb's case, an imprisoned operative of an outlawed organisation denied knowing the person.
CTD Additional IG Abbasi and East Deputy Inspector General (DIG) Sultan Khawaja among four members of the probe committee recorded Qari Ahsan's statement in Central Jail.
Rao Anwar had claimed that Naqeebullah Mehsud worked with Qari Ahsan.