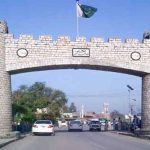 KARACHI: Rao Anwar has filed a bail petition in the Anti-Terrorism Court (ATC) in Naqeebullah Mehsood murder case.
In his petition, the suspended SSP Mali has said that geo-fencing and joint investigation reports and charge-sheet have contradictory information.
After his bail petition, the ATC has issued notice to government's counsel to appear for the hearing on May 14.
Anwar is accused of killing Naqeebullah Mehsud, a shopkeeper and an aspiring model hailing from South Waziristan Agency, in an encounter staged to kill 'militants' in Karachi.