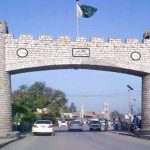 ISLAMABAD: The Civil Aviation Authority (CAA) has issued a security alert, warning of terrorist plan to attack Dir and Chitral.
According to the letter, two terrorist groups comprising four to six snipers, trained by Indian intelligence agency Research Analysis Wing (RAW), have been launched by the Tehreek-e-Taliban Pakistan to carry out attacks in Dir and Chitral.
Senior Joint Director Aviation Security Anjum Raza has issued the security alert and it has been sent to all relevant departments.
The letter says terrorists were trained at a RAW camp in Mazar-e-Sharif Afghanistan and they have already reached the bordering areas of Dir and Chitral.
The army launched an operation Zarb-e-Azb in June 2014 in a bid to wipe out militant bases in northwestern tribal areas and so bring an end to a bloody insurgency that has cost thousands of civilian lives since 2004.
Violence has declined in recent years following a series of military operations in volatile areas as well as concerted efforts to block the militants' sources of funding.
But the remnants of militant groups are still able to carry out periodic attacks, particularly in the northwest.
According to data from the South Asia Terrorism Portal, 457 civilians and 182 members of the security forces were killed in Pakistan from January 1 to September 11, putting 2016 on course for fewer casualties than 2015.