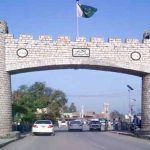 ISLAMABAD: The National Flood Response Coordination Centre (NFRCC) on Monday released the details of ongoing relief operations that had been carried out for the rescue of people stranded in the flood-hit areas of the country.
During the last 24 hours, no damage to infrastructure and private property had been recorded. Collectively, 12,716 kilometers of roads and 374 bridges have been damaged so far.
Qambar Shahdadkot, Jacobabad and Larkana are among the districts of Sindh that had been most affected by rains and floods.
The relief activities of the Pakistan Army are continuing rapidly in the affected areas. The Pakistan Army Aviation Corps carried out 569 flights to rescue the people stranded in different flood-hit areas.
As many as 4,653 stranded people were rescued through helicopters. During the last 24 hours, 18.4 tonnes of relief goods were also delivered to the flood-hit people through 12 flights.
A total of 147 relief camps and 220 relief collection points are functioning for flood victims across the country.
Over 300 medical camps have been set up for the flood victims. So far, over 319049 patients have been treated in the medical camps. All the patients have been provided with three to five days of free medication.
So far, 9563.6 tonnes of ration and 1619.7 tonnes of food items have been collected. 9177,878 medicines have been collected at the relief collection centers. So far, 9,365 tonnes of food and 1,585 tonnes of edibles have been distributed to the flood victims. 8832,678 medicines have been distributed to the flood-hit people.