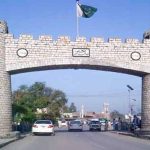 CHITRAL: In Chitral, rescue and relief activities are continuing in flood-hit areas while Pak Army aircraft evacuated 80 tourists trapped in the affected areas.
The Provincial Disaster Management Authority (PDMA) of Khyber Pakhtunkhwa has distributed forty tons of food items including flour, rice, sugar, pluses and other things among the affected people.
It also dispatched five hundred tents to Chitral for distribution among the affectees.
The National Disaster Management Authority has dispatched one ton of mineral water bottles and one million water purification tablets for the flood hit people.
Meanwhile, the Provincial Disaster Management Authority (PDMA) Khyber Pakhtunkhwa has issued an alert about flood in Budni Nullah Peshawar due to widespread rain in the adjoining areas.
All the concerned authorities and general public have been asked to take precautionary measures to avert human and material losses.