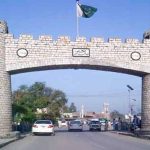 KARACHI: Prominent religious scholar Maulana Abdul Qayoom Sufi was gunned down by unidentified armed men in Karachi on Tuesday.
According to police,  unidentified assailants on a motorbike opened fire on Maulana Abdul Qayoom Sufi, who is a member of the Pakistan Ulema Association, in Karachi's Gulistan-e-Jauhar Block 9 area.
Police said that he was targeted by motorcyclists when he was returning home after leading Fajar prayers. The deceased was also head of Noorani Islamic Centre at Jamia Masjid Muhammadia.
The investigation has been launched to catch the attackers, the police said.
In 2020, renowned religious scholar Maulana Adil and his driver were gunned down by unidentified armed men in Karachi.
According to the details, Jamia Farooqia's Maulana Adil was on his way when unidentified armed men, riding on a motorcycle, opened fire on his vehicle in Shah Faisal Colony.