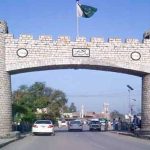 LAHORE: The remains of Sri Lankan factory manager Diyawadanage Don Nandasri Priyantha — who was lynched by a mob in Sialkot over allegations of blasphemy — were sent off to Colombo today.
The Sri Lankan embassy officials arrived at the hospital to escort Kumara's body to the airport and laid flowers over it.
The body had been shifted to Lahore from Sialkot and Punjab Minister for Minorities Affairs Ejaz Alam represented Punjab Chief Minister Usman Buzdar on the occasion as the latter had to leave for Islamabad for an important meeting. Priyantha's last rites will be performed upon arrival of his body in Sri Lanka.
Court remands 26 suspects into police custody
Meanwhile, 26 suspects arrested in connection with the lynching of the Sri Lankan factory manager have been remanded into police custody. The police presented the suspects before an anti-terrorism court today and requested their remand for interrogation.
The police requested the court to grant 15-day remand of the suspects for interrogation which the court accepted and ordered the investigation officer to present them on December 12.
Moreover, seven other suspects involved in the lynching were arrested, the police said. So far, a total of 131 suspects have been arrested in connection with the Sialkot lynching case.
A statement issued by the Punjab police spokesperson said that arrested suspects Sikandar, Rashid, Ahmed Shehzad, Zohaib, Muhammad Irshad, Subhan and Umair Ali, were part of the mob that brutally murdered Priyantha.