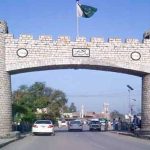 LAHORE: Famous playwright and spiritual writer Bano Qudsia died on Saturday at an age of 88.
She was wife to well-known literary figure Ashfaq Ahmed. Bano earned international recognition for her masterpiece Raja Gidh – an Urdu novel.
Besides, Bano wrote extensively for Pakistani dramas and also contributed to Punjabi literature.
Noted short-story writer Bano was given the Kamal-e-Fun Award for 2010 by the Pakistan Academy of Letters (PAL).
Her play Aadhi Baat is considered to be a classic while Pia Naam Ka Dia, Dast Basta, Aik Din, Mard-e-Abresham, Amar Bail and Kooch Aur Nahi are some of the famous novels she authored.