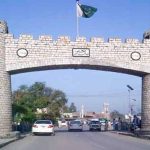 PESHAWAR: Repatriation of 98 temporarily displaced persons (TDPs) of South Waziristan Agency has completed as peace has returned to the region.
Inspector General Frontier Corps (IGFC) Major General Abid Latif said the return of the remaining TDPs will be ensured before Ramazan. He said 78 schemes in healthcare and 11 in education sector have been completed in South Waziristan,reported private news channel.
Besides that, he said, 174 irrigation schemes, 81 parks, and 59 markets have also been completed. He said mobile phone service will resume in South Waziristan Agency soon.
Major General Abid Latif said the monitoring of the Pak-Afghan border with the help of modern cameras and radars is being done to ensure peaceful environment. He said 151 security check posts have been established near the Afghan border, however, in South Waziristan, the check posts have been reduced to just eight from the previous 90.
He said border has been fenced up to 30 kilometres in South Waziristan. He said Rs433.6 billion have been distributed among 18,464 displaced persons so far.