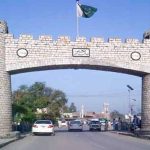 QUETTA: Balochistan Home Minister Sarfaraz Bugti said at least five to six terrorists entered into police line and opened indiscriminate fire at hostel of police recruits.
The Home Minister said that five police recruits suffered injuries in the attack who have been shifted to Sandeman Civil Hospital.
"We are fighting a war on terror and our focus is to end terrorists," he said, adding rescue operation was underway in the affected area.
Meanwhile, Major General Sher Afgan, chief of the Frontier Corps (FC) in Balochistan said "the attack was over in around three hours after we arrived".
He added that communications intercepts showed the militants belonged to the Al-Alimi faction of the Lashkar-e-Jhangvi militant group — which is affiliated with the Pakistani Taliban.
"They were in communication with operatives in Afghanistan," he said. The group itself has not claimed the attack.
At least 60 officials were martyred and 122 were wounded when heavily-armed militants wearing suicide vests stormed Police Training College at the Saryab Road in Quetta on Monday night.