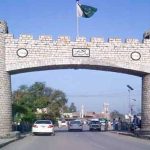 WANA: A large number of local residents of the South Waziristan took to street on Friday to protest against return of militants and terrorism in the area.
The massive protest rally came a day after security forces carried an intelligence-based operation in the area and killed banned Tehreek-e-Taliban Pakistan 11 terrorists including two suicide bombers. The TTP local commander identified as Hafeezullah alias Toor Hafiz was also killed in the operation. He was involved in attacks on police stations in the districts carried out last month.
The protesters asked the authorities to ensure peace on their soil. They said that they would not allow new great game being imposed on their soil.
They said that the region has witnessed spike in wave of terrorism- target killings, extortions, kidnappings, bomb blasts, and suicide attacks- but the government is not taking any concrete steps to counter the terrorism incidents.