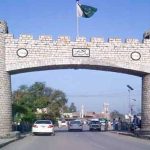 For the first time in the history of Pak-US relations, a landmark resolution was introduced in the House of Representatives by Congressman Jamaal Bowman recognizing 23 March 2023 as ''Pakistan Day'' to "honor and celebrate the important role played by the Pakistani-American community in strengthening and inspiring the people of the United States."
The resolution stated that it is proper and desirable for the United States to recognize and pay tribute to those who foster ethnic pride and enhance the profile of cultural diversity which strengthens the fabric of the communities of the United States.
It further said that "Pakistan Day provides an excellent means by which all residents of the United States can learn more about the rich Pakistani heritage, while fostering an appreciation for the ancient culture among future generations,"
Meanwhile, Pakistan's Ambassador to the United States Masood Khan thanked Congressman Bowman for his initiative which he said would not only help further strengthening bilateral relations of the two countries but would also help bringing the people of the two countries closer to each other.
He also thanked the leadership of American Pakistan Advocacy group, including its president and prominent community leader Ali Rashid and other officer-bearers, who had been working hard, maintaining a close liaison with the Congressman for introduction of the landmark resolution.
He said that recognizing 23rd March 2023 as "Pakistan Day" and acknowledging valuable contributions of Pak-American citizens reflects the importance of Pak-US ties and a desire to further strengthen this relations.