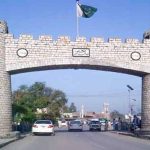 LONDON: Ousted premier and president of Pakistan Muslim League-Nawaz (PML-N) Nawaz Sharif, while lashing out at the NAB references against him, said that the revengeful accountability is damaging Pakistan.
Nawaz Sharif who reached London along with his daughter Maryam Nawaz on Tuesday stated this while talking to media at the airport. He said that those who validated martial law committed bigger crime. Will those persons be made accountable, he questioned.
Nawaz Sharif said that sit-ins have become a tradition in the country now. He further said that the person who ended power load-shedding from the country has been disqualified.
The former prime minister said that democracy in Pakistan is being ridiculed for the past 70 years and questioned that why only the prime ministers are ousted from power.
Commenting on Justice Ali Baqar Najafi commission report on Model Town tragedy, Nawaz Sharif demanded that all commission reports should be made public now.