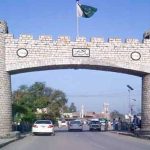 MUMBAI: Indian actor Rishi Kapoor has wished to see Pakistan before he dies and wanted his children to see their roots.
In his message on a social media website; he wrote, "Accept it, I am 65-years-old and I want to see Pakistan before I die. I want my children to see their roots. Bas karva dijiye. Jai Mata Di!"
Kapoor also demanded for the solution of longstanding Kashmir issue between Pakistan and India adding that no one was resolving the matter.
The Kapoor clan has a house in Peshawar, Pakistan which was was constructed between 1918 and 1922 by Dewan Basheswarnath Kapoor, father of Prithviraj Kapoor, who was the first from the family to enter the Indian film industry.
The family shifted to India after Partition.