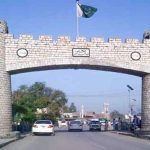 MAKKAH: The ritual of changing Ghilaf-e-Kaaba was held early this morning.
The new Ghilaf has been prepared at a cost of two hundred thousand Riyal. Six hundred seventy kilogram pure silk, 120 kilogram gold and one hundred kilogram silver have been used in it.
This ritual had started in the age of Hazrat Ismail AS and Prophet Muhammad (PBUH) ordered change of Ghilaf-e-Kaaba after the conquest of Makkatul Mukarramah.
Imam Masjid ul Haram Dr. Abd ur Rahman Assudais and Governor Makka Khalid Faisal participated in the ritual.