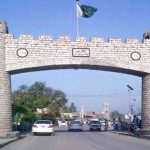 LAHORE: Several students have sustained injuries after clashes erupted between two groups in the University of Punjab on early Monday.
The groups clashed when a group assaulted its rival group, which was busy in preparing an event.
The incensed students stormed department of the electrical engineering and also set ablaze a research lab. They also used sticks against each other and rain stones.
Heavy contingent of police reached the campus to control the situation after the varsity administration called in them for the restoration of order.
To disperse the enraged students, the police resorted to tear gas and baton charge; however, the students attacked the police with stone pushing the cops back.
The doors campus remained close for media personnel and other persons.
Meanwhile, Vice-chancellor Dr Zakriya Zakir said that those responsible for choas in the university would be dealt strictly.
He said that the overall situation was being monitored and FIRs would be lodged against those responsible for the unrest.
On the other hand, Chief Minister Punjab Shahbaz Sharif took notice of the incident and sought report from CCPO Lahore.