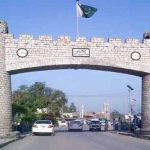 WANA: Two rival tribes in Karkanra area of South Waziristan tribal district have announced to cease fire in order to give chance to the local administration and tribal elders to resolve the long standing land dispute in a peaceful manner.
District Police Officer (DPO) Shaukat Ali said Dotani and Zalikhel tribes have agreed to step back from their positions over the efforts of Al-Haaj Karavaan chief Shah Jee Gul Afridi and Habib Orakzai after which there is a hope of peaceful resolution of the issue.
Earlier, the armed men of both the tribes had taken positions in bunkers. After vacation of the bunkers, the 40 policemen will occupy these bunkers to keep an eye on the situation. The tribal elders of the area have invited the elders of Dotani and Zalikhel tribes for talks and Rs15 million have been submitted by both the tribes as security.
On March 11, clashes resumed between Dotani and Zalikhel tribes in which at least two persons lost their lives and three others were injured. Both sub-tribes of Ahmadzai Wazir tribes were clashing for the last one and a half months in which several persons from both sides have been killed and injured.
On February 20, six people reportedly died and several others are injured in clashes between the two tribes.
Earlier, the activists of different political parties and groups in South Waziristan including Awami National Party (ANP), Jamaat-e-Islami (JI), Pakistan People's Party (PPP), Jamiat Ulema-e-Islam, Pakhtun Tahaffuz Movement (PTM) and others at a press conference alleged that the government and district administration were responsible for the clashes in Karkanra area as they have been unable to resolve the dispute according to available documents.