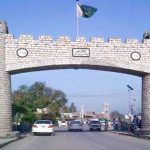 LAHORE: Pakistan International Airlines (PIA) Riyadh-bound flight PK-755 Wednesday caught fire after engine failure, and the plane made emergency landing at Lahore airport.
The inferno had erupted in the cargo section. More than 300 passengers were onboard, and all have been saved. The intensity of blaze was so high that even engineering staff was not allowed to go near the plane.
The flight was going to Riyadh from Sialkot. Rescue teams reached the runway and doused the fire after half hour. The authorities are looking into the matter to find out the reason behind engine failure.