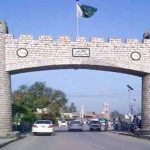 LAHORE: The routine life has been paralyzed while the road, rail and air traffic have been disrupted as dense fog has engulfed different cities of Punjab including Lahore.
According to a Motorway spokesman, the Motorway sections from Lahore to Pindi Bhattian and Pindi Bhattian to Faisalabad have been closed because of zero visibility.
Similar situation also exists at several places on the National Highway.
The Motorway police have appealed the drivers to use GT Road for travelling. They have also urged drivers to drive with care and switch on fog lights.
Similarly, people have been requested to stay home and avoid unnecessary travelling.
Meanwhile, Allama Iqbal International Airport was shut down and flight operation was cancelled as thick fog dropped visibility down to zero.
The fog has also affected railways schedule in most cities of Punjab and departure if several trains was delayed.