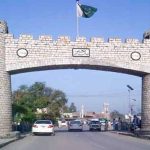 KABUL: A roadside bomb killed six policemen in western Afghanistan on Saturday, as they were patrolling on the first day of the Muslim holiday of Eidul Fitr, officials said.
The bomb tore through a police vehicle in Herat, a relatively peaceful province, provincial police spokesman Abdul Rauf Ahmadi told a foreign news agency.
"A mine planted by the terrorists hit a police vehicle in Guzara district yesterday morning, leaving six policemen dead and three more wounded," Ahmadi said.
The toll was confirmed by the provincial governor's spokesman Ehsanullah Hayat.
There was no immediate claim of responsibility but roadside bombs have been the Taliban's weapon of choice in their war against foreign and Afghan security forces.
The blast comes days after Afghan Taliban leader Mullah Omar issued a statement endorsing as "legitimate" a nascent negotiation with the Afghan government representatives aimed at ending the conflict.
Earlier in the month, neighbouring Pakistan hosted the first face-to-face talks between the Afghan government and the Taliban, reportedly supervised by US and Chinese representatives.
The meeting was said to have made progress, with the two sides agreeing to work on trust-building measures and hold more such sessions after Eid.
Afghan authorities have repeatedly tried to jumpstart talks with the Taliban in the hope of ending the 13-year conflict, but the militants have set tough conditions, including the withdrawal of all foreign troops in Afghanistan.
Nato ended its combat mission in Afghanistan in December, leaving local forces to battle the Taliban alone, but a residual force remains for training and counter-terrorism operations.