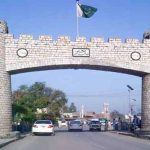 NOWSHERA: Some unidentified suspects on Friday have robbed Rs2 crore from a bank in Nowshera's Pabbi tehsil.
According to details, the dacoits stormed the bank and looted the money on gun point. They also took CCTV record with them before leaving the bank.
Moreover, investigation into the matter has been launched to nab the culprits.