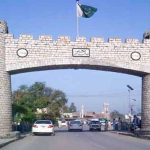 WANA: More than 20 sacks of pine nuts (chilgoza) were stolen by unidentified men in Wana, South Waziristan tribal district of Khyber Pakhtunkhwa.
The suspects scaled the walls of a warehouse and held security guards and workers hostage at gunpoint.
Along with cash and mobile phones, the robbers took away 23 sacks of pine nuts as they made an unhindered escape.
Speaking to reporters later, traders said the pine nuts stock was worth at least Rs12.5 million. A First Information Report (FIR) has also been filed at a police station in Wana.
One of the most expensive nuts in the world, the edible seeds grow on pine trees – huge, straight erect trees with large stems reaching up to 75 feet in height with pyramidal-like dense foliage cover – in the wild cold of the northern areas.
A global favourite, pine nuts are served in various cuisines worldwide and are a winter favourite in Pakistan.