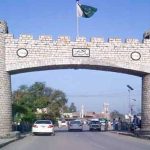 ISLAMABAD: Chairman Senate Mian Raza Rabbani has said that any attempt aimed at rolling back the 18th constitutional amendment would prove disastrous for the federation.
Addressing the concluding ceremony of a seminar on "Model CCI' debating Federalism" in Islamabad, he said the federation would suffer if the centrist mindset continued to create hurdles in the way of smooth implementation of the 18th Amendment.
Raza Rabbani said the 1973 Constitution was a major leap forward in terms of provincial autonomy, dispute resolution and making the provinces masters of their resources.