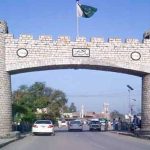 SHAHKOT: Four brothers died when roof of their house situated in Bhoro village of Shahkot area in Nankana Sahib collapsed due to rain on Monday night, media outlets reported.
According to details, roof of a house in Bhoro village near Shahkot caved in due to rain, burying the family members under the debris.
Rescue teams reached the spot and retrieved four dead bodies and two injured from the rubble.
The deceased included 17-year-old Awais, 12-year-old Waheed, 10-year-old Noor Mustafa and 5-year-old Sharjeel who are real brothers.
The injured were identified as 38-year-old Rehana and 2-year-old Sehar Fatima.
Rescue teams have shifted the injured to Tehsil Headquarters Hospital.