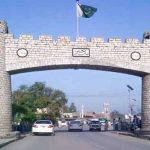 PESHAWAR: The Provincial Disaster Management Authority (PDMA) has released Rs190 million in the head of monthly instalment for payment of compensation to temporarily displaced persons (TDPs) of North Waziristan.
According to a notification, 15,635 families will be paid Rs12,000 each through mobile SIM as per routine. The notification issued from the office of Director General PDMA Pervaiz Khan said the displaced families of North Waziristan, who have not returned to their native areas yet, received Rs12,000 per month. The notification said the 60th instalment of the financial assistance has been released.
Pervaiz Khan said 108 new displaced families have been added to the list of compensation this month. He said these families have been included in the list of beneficiaries after verification by National Database and Registration Authority (Nadra). He said the newly included families will also receive Rs12,000 per month. He said the new 108 families are living in Bakakhel Camp.
Meanwhile, the Relief Department of Khyber Pakhtunkhwa said in a statement that Rs1.23 billion has been allocated for providing financial assistance to the owners of damaged houses in North Waziristan under 'Mrasta programme'.
The statement said Rs51.1 million has been distributed among owners of 168 damaged houses under Mrasta programme. It said provision of financial assistance under Mrasta programme will continue.
The statement said 436 houses have been identified which suffered damage during militancy in North Waziristan. It said 222 houses were completely damaged, while 214 were partially damaged.