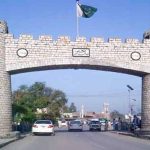 LAHORE: A budget worth Rs2.3005 trillion for the fiscal year 2019-20 was presented in Punjab Assembly on Friday.
A budget session in the Punjab Assembly started earlier, half an hour behind its scheduled time of 3PM, with Speaker Pervez Elahi in the chair here on Friday.
The provincial minister for finance, Makhdoom Hasim Jawan Bakht, presented the Fiscal Year 2019-20 budget. Punjab Chief Minister Usman Buzdar and other provincial cabinet members were also present in the house.
The amount allocated to all major sectors was bumped up this year as opposed to the prior year.
Rs0.3085 trillion has been allocated to health, Rs0.3829 trillion to education, Rs0.1136 trillion to agriculture, Rs0.1816 trillion to public safety and law and order, and Rs0.1493 trillion to public infrastructure. These represent respective hikes of 8.4 percent, 2.7 percent, 23.8 percent, 6.2 percent, and 6.2 percent.
Punjab's financial budget for the year is Rs2.30 trillion, of which Rs0.35 trillion (a 47 percent jump from last year) has been allocated for development projects and Rs1.299 trillion (a mere 2.7 percent hike from the past year) for non-developmental projects.
Of the aforementioned development plans, the projects and programmes running on foreign funds have been allocated Rs60.5 billion, while Rs42 billion has been set aside for the self-financed ones.
The Rs2.30-trillion financial budget was increased from Rs 2.027 trillion.
Separately, instead of Rs0.238 trillion, the reviewed development budget — Annual Development Programme (ADP) — is Rs0.228 trillion.
Punjab's new budget also includes a proposal for completing mega projects under the public-private partnerships, while the finance department has declared the new budget tax-free and a surplus of Rs0.2 billion.
It also increased the rate of pre-existing taxes and departments have been emphasised to reduce non-developmental expenditure.
An increase in the salary of government employees has been proposed along the same lines as federal employees.
A 10 percent increase has been proposed for Grade 16 employees, while a five percent increase has been recommended for Grade 17-20. No increase has been proposed for Grade 20 and 21 officers.
The provincial departments would be obligated to take permission for expenses — including vehicles and furniture — beforehand.