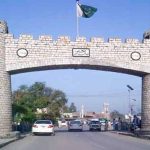 KARACHI: Central Ruet-e-Hilal Committee will be meeting in Karachi today (Thursday) to decide about sighting of the moon of Ramazan-ul-Mubarak,1441 Hijri or otherwise.
Chairman of the Committee Mufti Munib-ur-Rehman will preside over the meeting.
The meetings of zonal and district Ruet-e-Hilal committees will also be held at their respective headquarters for collecting evidences in respect of sighting or otherwise of the Ramazan moon.
On the other hand, Pakistan Meteorological Department (PMD) reported that the new moon of Ramazan will be born on crossing conjunction point at 07:26pm on 23-04-2020.
According to astronomical parameters, there is no chance of sighting the new moon of Ramazan on the evening of 23-04-20 i.e. on Shaban 29, 1441 AH.
Weather is expected fair/partly cloudy in most parts of the country, the Met Office further predicted.