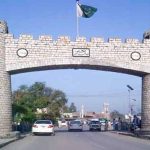 KARACHI: The Ruet-e-Hilal committee, Pakistan's moon sighting body, will meet in Karachi on Sunday (today) to look for the moon.
The Met Office director, Ghulam Rasool, said that there are chances that the Zil Hajj crescent will be sighted in Balochistan and Sindh on Sunday. There will be clouds in Punjab and Khyber-Pakhtunkhwa, he said.
The chairperson of the Ruet-e-Hilal committee, Mufti Muneebur Rehman, will lead the meeting of the central committee in Karachi. The meetings of zonal Ruet-e-Hilal committees will be held at their respective provincial headquarters.
If the Ruet-e-Hilal committee sees the Zil Hajj crescent on Sunday, Eidul Azha will fall on Wednesday, August 22. The crescent was sighted in Saudi Arabia on Saturday.