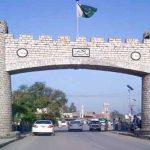 KARACHI: Central Ruet-e-Hilal committee to meet today (Friday) to sight the Zil-Hajj crescent in Karachi.
Members of various district committees would meet at their respective offices for sighting the Eid crescent.
The decision will later be announced by committee chairman Mufti Muneeb-ur-Rehman.
The Zil-Hajj crescent has not been sighted in Saudi Arabia, therefore, Eid will be on September 12 (Monday) this year.
Meanwhile, the Zilhaj moon was not sighted in Saudi Arabia on Friday.
In the Saudi council meeting no testimony regarding moon sighting was received therefore, Saturday (Sept 3) would be the first day of Zilhaj in the country.
The first day of Eidul Azha would fall on Monday, September 12 whereas the Day of Arafat would be on Sunday , September 11, added the statement.
Arrangements are being made to provide facilities to Hajj pilgrims. More than 20 lac Muslims from different countries will perform Hajj this year.