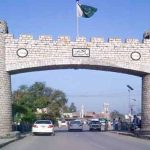 KHAIRPUR: Opposition Leader in National Assembly Syed Khurshid Shah on Sunday said democracy was not in danger from sit-ins but rulers itself are the serious threats to democracy.
Talking to media in Khairpur, Shah promised that he will demonstrate after Eid-ul-Adha that people of Punjab were with Pakistan People's Party (PPP). "When Chairman Pakistan Tehreek-e-Insaf newly came into politics, youth were with him. However, PPP's leader is a 27-year-old, while Imran Khan is now 65.
Advisor Chief Minister Sindh Moula Bukhsh Chandio on this occasion said those who said PPP had finished were living in fool's paradise.