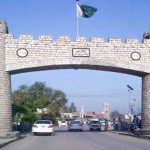 KARACHI: With the persistent delay in resumption of International Monetary Fund's (IMF) $6 billion loan programme for Pakistan, the rupee dived for the fourth consecutive day on Thursday and fell to a two-week low of Rs174.19 against the US dollar in the inter-bank market.
The rupee is just Rs1.08 away from the all-time low of Rs175.27 hit two weeks ago on October 26, according to data of the State Bank of Pakistan (SBP).
With a fresh drop of 0.72% (or Rs1.26) on Thursday, the rupee has lost a total of 2.48% (or Rs4.22) against the greenback compared to the five-week high of Rs169.97 recorded on November 3.
The free fall of the rupee, however, sent gold prices soaring for the sixth consecutive day. The precious metal soared Rs3,300 to a two-week high at Rs129,100 per tola (11.66 grams).
The delay has raised questions whether the IMF would resume the programme or Pakistan would opt to quit it as "chances for which are next to nothing," he said. "The uncertain situation has sparked volatility in the rupee."
Reports suggest that Pakistan has fulfilled almost all IMF conditions including the increase in power tariff. However, the two sides are yet to reach an agreement on the condition of autonomy for the SBP.
The government has informed the IMF that it lacked the two-thirds majority in parliament needed to secure approval of the SBP amendment bill. The IMF is expected to consider the government's position.
The Asian Development Bank (ADB) has also announced that it will play its role in resuming the IMF programme.
Earlier on October 26, the rupee hit an all-time low of Rs175.27 against the US dollar. Later, it recovered to Rs169.97 by November 3 in the wake of Saudi Arabia's announcement of a $4.2 billion assistance package for Pakistan.