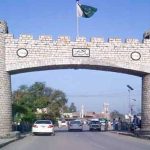 KARACHI: The signing of agreement with Russia for training of Pakistani military officers coincided with the news that Trump administration has cut down coveted training and educational programmes that have been a hallmark of bilateral military relations for more than a decade.
How will it affect the already fractured ties between Washington and Islamabad is a matter of concern for the analysts and foreign relations experts.
The effective suspension of Pakistan from the US government's International Military Education and Training programme (IMET) will close off places that had been set aside for 66 Pakistani officers this year, a State Department spokesperson told Reuters. The places will either be unfilled or given to officers from other countries.
There were no official comments on the development but some experts believe that it is counterproductive for the bilateral ties.
Dan Feldman, a former US special representative for Afghanistan and Pakistan, called the move "very short-sighted and myopic".
The cut in training programme is likely to have little impact on Pakistan as it has already shifted its focus on military needs towards Russia and China and latest accord with Moscow is a sign that both nations are getting closer than ever.
US media also expressed concerns and said the deal underscores 'Pakistan's increasing reliance on Russia for its military needs amid strained relations with the US'.
Senator Mushahid Hussain Sayed, who is also chairman of the Foreign Affairs committee, called the step "wrong and counterproductive."
The US is repeating past mistakes through failed policy of trying to bully and browbeat Pakistan with such short-sighted sanctions, he further commented.
Current and former US officials said Defense Secretary Jim Mattis argued against excluding Pakistani officers from IMET courses.
"I am shocked… We worked so hard for this to be the one thing that got saved," said a former US defence official, who was involved in the conversations.
The US military has traditionally sought to shield such educational programmes from political tensions, arguing that the ties built by bringing foreign military officers to the United States pay long-term dividends.
For example, the US Army's War College in Carlisle, Pennsylvania, which would normally have two Pakistani military officers per year, boasts graduates including Lieutenant General Naveed Mukhtar, the current director-general of Pakistan's Inter-Services Intelligence (ISI).
The War College, the US Army's premier school for foreign officers, says it has hosted 37 participants from Pakistan over the past several decades. It will have no Pakistani students in the upcoming academic year, a spokeswoman said.
Pakistan has also been removed from programmes at the US Naval War College, Naval Staff College and courses including cyber security studies.