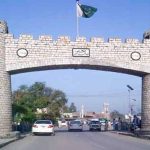 ISLAMABAD: The Pakistan Muslim League-Nawaz government has contacted Pakistan People's Party (PPP) to counter PTI's Islamabad protest on November 02.
Federal Minister for Railways, Khawaja Saad Rafique contacted Opposition leader in the National Assembly Syed Khurshid Shah on Saturday.
The federal minister expressed desire for a joint plan of action to counter Imran Khan's protest in Islamabad.
Khurshid Shah agreed on it and hence the government and PPP will hold dialogues on Tuesday in Islamabad.
Earlier, speaking to media in Sukkur, Khurshid Shah said, "protest is everyone's democratic right, but laying siege and blocking the capital is an unconstitutional move."
Shah added the PTI chief Imran Khan did not know how to do politics, while the prime minister did not know how to run the government.
He said PPP condemns any undemocratic move and will oppose it. Sources said the government has also taken its allies into confidence over the matter.