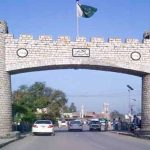 LAHORE: Minister for Railways Khawaja Saad Rafique issued a defamation notice of Rs5 billion to Pakistan Tehreek-e-Insaf (PTI) leader Fawad Chaudhry for levelling false allegations against him on Sunday.
In a tweet posted Sunday, Saad Rafique demanded an unconditional apology from Fawad over his statements against the railway minister regarding Paragon Housing Society.
During a news conference on February 22, Fawad had said that the whole country knew that Paragon Housing Society belongs to Rafique. The PTI leader had also alleged that the railways minister was a part of the land mafia, saying that he had deprived the common people of their property.
Rafique has demanded that Fawad either prove the allegations or publically apologise within 14 days. The railways minister has said he would initiate legal proceedings against the PTI leader if he fails to do as stated.
In the notice, the railway minister has also stated that the Constitution allows every person to protect their sanctity and that no one should level baseless allegations against anyone.