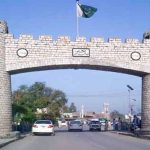 ISLAMABAD: Minister of State for Interior Balighur Rehman told the Senate Friday that security of the federal capital is being enhanced under Safe City project.
Balighur Rehman was giving answers during question hour and told the House that 1900 CCTV cameras have been installed at different points in Islamabad.
He explained that these cameras are helping to identify the criminals and check crimes.
The Minister of State told that Punjab Government is also going to implement Safe City project in six cities in the province.
When asked a question, Balighur Rehman said there are three model addiction treatment and rehabilitation centers working under supervision of Anti-Narcotics Force, one each in Islamabad, Quetta and Karachi.
The Minister added that these centers have treated 3408 drug addicts during the last three years.
At the beginning of the proceedings, the House offered Fateha for those killed in yesterday s terrorist incident in Sehwan Sharif.
The proceedings of the House were also adjourned for five minutes in respect of victims of terrorist incident.