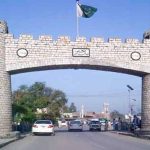 MANSEHRA: Saleh Mohammad Khan, an independent candidate backed by Pakistan Tehreek-e-Insaf has retained the National assembly seat NA-13 Mansehra-I, following recounting of the votes.
Saleh Mohammad secured 108,950 votes while Sardar Shah Jahan Yousuf of Pakistan Muslim League-Nawaz secured 107,114 votes.
Saleh Mohammad Khan had already announced to join PTI after meeting with PTI chief Imran Khan last week.