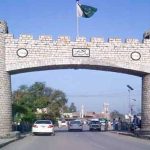 AJK— Prime Minister of Azad Jammu and Kashmir Sardar Abdul Qayyum Khan Niazi has resigned from his position in the wake of a no-confidence motion tabled against him by 25 members of the parliamentary party.
According to media reports, Sardar Abdul Qayyum Niazi has sent his resignation to PTI Chairman Imran Khan and also to the President of Azad Kashmir Barrister Sultan.
Earlier today in the morning, Sardar Abdul Qayyum Kha Niazi had removed five his ministers from the ministry. The removed ministers include Tanveer Ilyas, Abdul Majid Khan, Ali Shan Soni, Khawaja Farooq and Akbar Ibrahim.
It is to be noted that on Tuesday, 25 PTI lawmakers had submitted no trust motion against Abdul Qayyum Niazi and had accused him of bad governance, nepotism and violation of merit".  They alleged that the prime minister had lost the confidence of the parliamentary party for his "failure to implement the party manifesto and highlight the Kashmir issue.