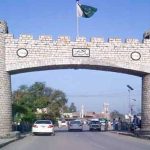 KARACHI: Pakistan skipper Sarfraz Ahmed, who returned home taking Champions Trophy, is busy meeting his fans that are showing up to his house in Karachi.
This time around, Sarfraz he met his special fan — Fawad Ahmed– who was brought by his parents to his residence in wheel chair.
Sarfraz gifted his green shirt to special fan as a mark of honor.
The elated fan expressed his gratitude at receiving the memento from his favourite cricketer.
Pakistan´s victory by 180 runs on Sunday has sparked widespread celebrations in the country, where cricket is the number one sport.
The national heroes are warmly welcomed by the fans all over the country.
Hundreds of fans gave Pakistan captain Sarfraz Ahmed a hero´s welcome as he arrived home carrying the Champions Trophy early on Tuesday.
Men, women and children packed Karachi airport as Sarfraz returned from England, where Pakistan thrashed arch-rivals India to be crowned surprise winners.
Sarfraz held up the trophy to loud cheers and chants of "Long live Sarfraz!" as a police band played patriotic songs nearby.
"(We won) thanks to Allah and the prayers of the whole nation," Ahmed said in brief comments as he jostled his way through the crowd of well-wishers.
Sarfraz was showered with bouquets and given a traditional skull cap and an ´ajrak´ shawl, which is usually presented as a mark of honour.