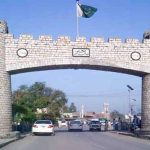 ISLAMABAD: Adviser to Prime Minister on Foreign Affairs Sartaj Aziz remarked on Tuesday that Bab-e-Dosti border, between Afghanistan and Pakistan, will not be opened till Afghanistan government addresses Pakistan's reservations.
Aziz met with Afghan Ambassador Omar Zakhilwal at the Foreign Office on Tuesday.
During the meeting, the tensions between Pakistan and Afghanistan were also discussed in detail. Sartaj Aziz also said that the ambassador should have raised problems of the Afghan government with Pakistan.
Afghan forces targeted innocent citizens during the Chaman firing incident, he remarked.
According to the sources, the ambassador later conveyed Pakistan's reservations to the Afghan government.
On Monday, Sartaj Aziz had condemned the Chaman incident and called it "unfortunate" while addressing a news conference at the Foreign Office.
He also remarked that Pakistan responded to the firing from across the border.
On May 5, at least 11 people were martyred and 46 injured when Afghan border forces opened fire on Frontier Corps Balochistan soldiers deployed for security of census team near the Chaman border.
In response, the gate between both the countries on the Chaman border, Bab-e-Dosti was closed following firing from the Afghan border police.
On May 7, more than 50 Afghan soldiers were killed and about 100 injured when Pakistan retaliated to unprovoked firing and shelling by Afghan forces at Chaman border, Balochistan Frontier Corps Inspector General Major General Nadeem Ahmed said.