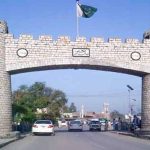 ISLAMABAD: Advisor to Prime Minister on Foreign Affairs Sartaj Aziz has expressed his heartfelt congratulations to Donald Trump for being elected as 45th president of the United States of America.
In an interview, Sartaj Aziz also hoped that the newly elected president would play his part in resolving the disputed issue of Kashmir.
Sartaj Aziz also let it be known that full coordination would continue with the new US government.
He also expressed that all the efforts would be made to enhance economic ties with the United States of America.
"We will strive to make strategic dialogue more effective with US," revealed Sartaj Aziz.