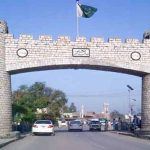 KARACHI: Muttahida Qaumi Movement-Pakistan (MQM-P) chief Dr. Farooq Sattar has said that he was removed from party's convenership for taking over authority to issue tickets.
Addressing a press conference in Karachi in response to Rabita Committee of MQM-P's announcement that Sattar has been removed from his post, the latter said that a conspiracy that was hatched against him, which has exposed.
Sattar claimed that not only he but every loyal worker of the party was de-seated today.
MQM-P chief claimed that some party members took a step against the sacrifices and martyrdom of the workers of the organisation.
He said that the dissenting members agreed a day ago that none of them wanted to become a convener and had no interest in party positions but acted in contradiction.
MQM-P chief claimed that he was the biggest hurdle in the personal gains and interests of party members.