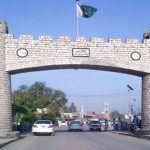 ISLAMABAD: The Commander Royal Saudi Air Force Major General Muhammad Bin Saleh Al Otaibi called on the Chief of Army Staff (COAS) General Raheel Sharif at the army's general headquarter in Rawalpindi on Tuesday.
In a statement, the Inter Services Public Relations (ISPR) said that the two dignitaries discussed matters of professional interest and regional security situation during the meeting.commander-royal-saudi-air-force-major-general-muhammad-bin-saleh-al-otaibi-and-general-raheel-sharif
Earlier in the day, the Saudi Air Chief held a meeting with his Pakistani counterpart Air Marshal Sohail Aman at the Pakistan Air Force (PAF) Headquarters in Islamabad and discussed bilateral relations and matters of professional interest.
The Saudi Air Chief said that Saudi Arabia would always stand by Pakistan in difficult times. He appreciated the role of PAF in the war on terrorism.
In his remarks, Sohail Aman said that Pakistan Air Force and Saudi Royal Air Force enjoyed close professional relations. He said that PAF would continue to extend training facilities to the personnel of Royal Saudi Air Force.
The Saudi delegation was given a detailed briefing on the organizational structure of Pakistan Air Force.