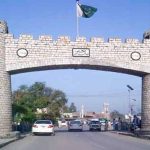 JEDDAH: Saudia Arabia has said that it has executed five men, including two Saudis, convicted for the robbery and murder of a Pakistani warehouse guard in the western city of Jeddah.
The Interior Ministry said the five men, two Saudis and three Chad nationals, stabbed and beat the guard and stole his cellphone as part of a robbery of the warehouse.
The country has executed 64 people so far in 2018. In 2017, 122 people were executed and 144 people were executed in 2016.