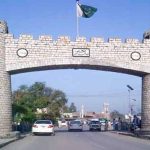 ISLAMABAD: Saudi Arabia on Sunday increased quota of Pakistani pilgrims for next year s Hajj by 5000.
Ministry of Religious Affairs spokesperson on Sunday said that Minister of Religious Affairs Pir Noorul Haq Qadri signed an agreement with his Saudi counterpart.
Under the arrangement, more than 184,210 pilgrims will perform Hajj from Pakistan next year.
It has also been decided to include Pakistani Hujjaj in Road to Makkah project in phases. Initially, 35000 pilgrims of Sindh will benefit from this scheme.
The process of verification and immigration of the pilgrims will be conducted at Karachi airport. According to the agreement, Pakistani Hujjaj will be given e-visas.
The Pakistani side was told that decision relating to abolishing of two thousand Riyal fee will be made after holding consultation with Khadim-e-Haramayn al-Sharifayn.
Noorul Haq Qadri thanked the Saudi government for implementing suggestions put forth by Pakistan.
The Saudi authorities assured to consider further increase in the Hajj quota according to new census.