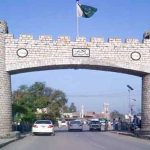 RAWALPINDI: Saudi Information Minister Awwad Bin Saleh Alawwad called on Chief of Army Staff (COAS) General Qamar Javed Bajwa at GHQ on Saturday.
In a statement issued by the Inter-Services Public Relations, (ISPR), matters pertaining to bilateral interests came under discussion, during the meeting.
Speaking on the occasion, the Saudi information minister reaffirmed KSA s full support to Pakistan in its efforts towards peace and stability.
Awwad Bin Saleh Alawwad also lauded the strong and brotherly bilateral ties between the two countries.
Earlier, in his meeting with Minister for Information and Broadcasting Fawad Chaudhry, the Saudi minister said that Pakistan and Saudi Arabia enjoyed strong fraternal relationship and now would work to enhance ties in the field of media.
He said he had the opportunity to meet the cabinet ministers and the members of Parliament and discussed with them issues of mutual interest.
Awwad Bin Salen said that Pakistan was like a second home to him and both the countries had solidified their relationship in the last six decades.
"The two countries had established strong relationship at the leadership and government to government level and now they should build people to people contacts," he added.
He recalled that Pakistani media delegation covered the Hajj, adding more exchange of delegations should take place so that the messages related to Vision 2030 of the Saudi government could be conveyed to the youth.
Pakistan and Saudi Arabia had a unique and special relationship that was getting strong with the passage of time, he added.