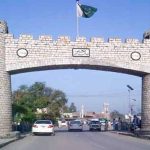 KARACHI: The State Bank of Pakistan announced its new monetary policy on Monday. It announced to increase the key interest rate by 150 basis points (1.50 per cent) from 10.75% to 12.25 per cent.
The bank in a statement said that the monetary policy committee had noted that certain factors — possibility of changes in utility tariffs, the higher level of fiscal deficit, the recent decline in foreign reserves, and the rising inflation — merit more policy decisions.
According to the top bank, the decision was crucial to handle implications of rising inflation because of the above-mentioned causes.