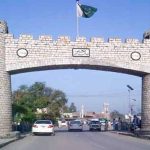 KARACHI: Pursuant to Finance Division notification No.F.3(12)IF-III/2005 dated 27th July 2015, the federal government has authorized State Bank of Pakistan (SBP) to issue Rs10 regular coin, an SBP press release said on Saturday.
This coin will be issued through the exchange counters of all the field offices of SBP Banking Services Corporation from 24th October, 2016, SBP announced officially.
The coin is yellow in colour and round with serrations on the edge and a diameter of 25.5 mm. It weighs 5.50 grams, said the press release while describing features of the coin.
The waxing crescent moon and a five pointed star facing North-West in rising position is in the center on the obverse side of the coin. Alongwith periphery on the top of the crescent star is inscribed اسلامی جمہوریہ پاکستان in Urdu script. Below the crescent and at the top of two springs of wheat with arms curved upward, there is the year of issuance. A circle of small beads is all along the edge of the coin.
The reverse side of the coin is decorated with the front side picture of Faisal Mosque with Doves flying over it. The face value of the coin in numeral wording "10" in bold letters and Rupee in Urdu script is inscribed at lower side of the coin. A circle of small beads is all along the edge of the coin.