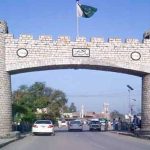 ISLAMABAD: The Supreme Court on Monday accepted the apologies submitted by the Punjab Chief Minister and former police chief in DPO Pakpattan Rizwan Gondal transfer case.
A three-member bench of the top court headed by Chief Justice of Pakistan Justice Mian Saqib Nisar heard a suo motu notice of the former DPO's transfer following an alleged altercation with Khawar Maneka — the former husband of Prime Minister Imran Khan's wife.
Punjab CM Usman Buzdar on Saturday had rejected the inquiry report holding him responsible for issuing instructions from his office for the transfer of former DPO Pakpattan.
The chief minister submitted his reply before the SC in the inquiry report, compiled by the National Counter Terrorism Authority (Nacta) Coordinator Mehr Khaliq Dad Lak. Buzdar termed the Lak Inquiry report as conjectural, based on a figment of imagination of a fertile mind, rooted in probabilities and surmises and therefore not worthy of any reliance.
The CM disclosed that Inquiry Officer Khaliq Dad Lak had grudge against the present government for not appointing him as IGP Punjab.
Former IGP Punjab Kaleem Imam and Ahsan Jameel Gujjar had also rejected the inqiry report in their respective replies to the court.
As the hearing began today, the Punjab advocate general (AG) pleaded with the bench to look at the matter 'from a different perspective'.
In response, Chief Justice of Pakistan (CJP) Mian Saqib Nisar remarked that the facts will remain the same regardless of the perspective.
"The matter was sensitive hence Ahsan Iqbal Jamil spoke with the Punjab chief minister," the advocate general argued.
CJP Nisar seemed unhappy with CM Buzdar's response to the probe report, saying if this was the 'kind of language' that was to be used against the officer. The bench also expressed displeasure as the respondents had not expressed regret on their actions. To this, Kaleem Imam regretted his conduct in the matter.
Later, the court also directed Punjab CM and Ahsan Jamil to submit written apology and seek forgiveness in strong words.